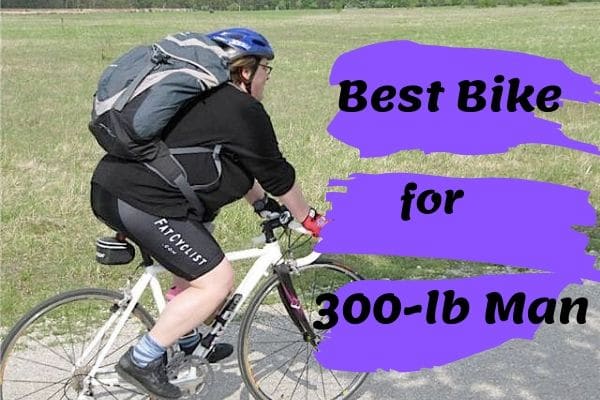 Best Bike for 300-lb Man
Cycling is a fun and joyful way to pass your time despite your weight and age. It's one of the simplest and cheapest ways to commute to and from work every day. Cycling is also an enjoyable way for one to start their fitness journey. It's training that many recommend for people who want to lose weight.
The ideal bike for 300-lb man should have strong and heavy steel frames among other features to hold the person's weight. However, it's not easy for overweight people to get the right bikes to support their weight. Normal bikes have a major problem of breaking over time. Instead of buying a new bike every time, this review will help you in selecting the best bike for a 300-lb man.
Different types of bikes for 300-lb man
The level of comfort you desire, your fitness goals, and the purpose of getting a bike should determine the style of bike you choose. Here are the different types of bikes available for a 300-lb man.
1. Mountain Bikes
Mountain bikes designed for a 300-lb man are very strong to support their weight and to handle the rough terrain. The design of the rims, drivetrain, brakes, and suspension forks for mountain bikes all work to support overweight people. Besides, these bikes come with wide tires to provide enough traction and support as you go for off-road riding.
2. Hybrid Bicycle
Hybrid bikes are a blend of mountain bikes, touring bikes, and road bikes. They're ideal for riding in both paved and unpaved roads. Hybrid bikes provide the comfort needed when commuting to work and for fitness purposes. They come with large cushioned saddles, flat handlebars for riders to remain upright, and shock absorbers. Hybrid bikes also come with brawny wheels for maximum riding comfort.
3. Electric Bicycles (e-bikes)
Electric bikes commonly referred to as e-bikes feature motors so you don't have to pedal while riding uphill. If you're overweight and just starting to cycle, e-bikes will be ideal for you. They'll help you to comfortably and easily cycle uphill.
4. Road Bikes
Road bikes feature skinny tires and drop handlebars similar to those found in racing bikes. These bikes are suitable for any overweight rider looking for speed on paved roads. The best road bike for 300-lb men should support their weight but remain light enough to gain enough speed on the road.
5. Cruiser Bikes
Cruiser bikes/beach cruisers are similar to hybrid bikes in design. They also feature flat handlebars so that riders can remain upright while cycling and large cushioned saddles for comfort. Cruiser bikes also come with fat tires for maximum riding comfort.
Top 5 bikes for 300-lb man
1. Diamondback Overdrive 29er Hardtail Mountain Bike
The Diamondback Overdrive 29er is a mountain bike designed for the 300-lb man. It comes with a durable aluminum frame to support the weight of a heavy man looking to break into cycling. This bike has 29-inch wheels that are durable, rigid, and large enough to hold someone with a larger frame.
For extra strength, the wheels have a double-walled and reinforced rim. This mountain bike has an SR Suntour front suspension fork for added comfort and control. The hardtail bike also comes with a 3x8 Shimano drivetrain for smooth and fast gear shifting. The rigid Tektro mechanical disc brakes equipped on the Overdrive provide sufficient stopping power under any conditions.
Pros
The bike comes with high-quality components to support a 300-lb man.
It features durable and rigid 29-inch wheels with a strong rim.
The brakes provide strong stopping power.
It comes with a strong but lightweight aluminum frame.
Cons
The saddle seat on this bike isn't very comfortable for the large frame of a heavy person.
2. Schwinn Discover Hybrid Bike
The Schwinn Discover is a hybrid bike that offers maximum comfort and leisure for heavy people. The classic looking bike comes with the best components including Schwinn suspension forks, alloy cranks, and Shimano rear derailleur. The front suspension fork and sturdy aluminum frame provide the comfort needed for commuting in the city.
Thanks to the 21-speed SRAM grip shifter, it'll be easier to pedal up the hill. The Schwinn Discover also features a padded seat, swept-back upright handlebars, and an adjustable alloy Ahead stem for improved comfort to the heavy rider. The bike also features fenders, a rear rack, linear-pull brakes, and alloy twist shifters.
Pros
It's ideal for 300-lb men because of its sturdiness and durability.
The bike is quite affordable.
It comes with 28-inch wheels for improved comfort.
It has a padded seat suitable for heavy riders.
It has great additional features such as fenders and a rear rack.
Cons
Although it has a classic look, the Schwinn Discover isn't great looking.
It doesn't come with an assembly guide.
3. Pure Cycles Classic 16-Speed Road Bike
The Pure Cycles Classic Road Bike is perfect for heavy riders starting in cycling. It features a strong and durable 4130 Chromoly steel frame. The Hutchinson nitro II tires on 32-spoke alloy rims safely support riders as heavy as 300-lbs and provide a smooth roll. The adjustable drop handlebar allows the rider to try different positions while the road saddle designed for performance ensures the rider remains comfortable on long tours.
This road bike comes with 16-speed Shimano Claris STI shifters to provide smooth competition speeds. The Pure Cycles Classic bike has front and rear alloy caliper brakes and a 3-piece crankset. The quality components of this road bike make it a very reliable and affordable bike for heavy riders.
Pros
The strong steel frame ensures the bike's durability.
It has 32-spoke wheels to support a heavy person.
The 16-speed Shimano drivetrain provides smooth shifting for higher riding speeds on any terrain.
The bike is quite affordable.
Cons
The steel frame makes the bike rather heavy.
4. Mongoose Dolomite Fat Tire Men's Mountain Bike
The Mongoose Dolomite is a 17-inch steel-framed mountain bike that comes with 26-inch knobby tires making it ideal for riding on all-terrains. The cruiser styled frame makes the bike quite comfortable for heavy riders. Stopping power on this bike is through a 4-inch wide alloy disc brakes.
The bike has a 17-speed Shimano drivetrain with a rear derailleur that makes hill climbing easy. The twist shifters on the bike's flat handlebars make shifting smooth. The adjustable threadless headset is ideal for riders of different heights. The cruiser pedals ensure that you can ride safely and comfortably. For improved durability, the bike comes with a 3-piece crank.
Pros
This is an affordable fat tire bike.
It has a strong and durable steel frame to support people weighing up to 350-lbs.
The fat tires and 7-speed drivetrain make it ideal for any terrain.
It's an affordable bike.
Cons
You require an electric or larger mechanical pump to inflate the large tires.
The bike weighs 44-pounds making it quite heavy.
5. DJ Fat Bike 750W 48V 13Ah Power Electric Bicycle
The DJ Fat Bike is an e-bike designed to relieve you from the struggle of conquering a steep hill, especially when exhausted. The bike comes with a 13Ah battery that produces up to 1000W of power. The e-bike is capable of handling both the weight of a 300-lb man and the toughest terrains.
The bike has a sporty looking aluminum frame and 26-inch fat tires to support all the weight. Heavy-duty alloy rims support the fat Kenda tires. The Mozo suspension fork provides additional support and comfort while the 7-speed Shimano gears make it possible to conquer even the steepest of hills. The rigid Tektro brakes provide sufficient stopping power.
Pros
The power-assisted riding ensures that you won't be sore from pedaling uphill.
You can dismount the 13Ah battery to make the bike lighter.
It comes with a padded saddle for extra comfort.
The fat tires support the weight of a heavy person and are great for riding on any terrain.
Cons
You need to charge the bike to use its power, otherwise, you'll have to pedal uphill.
At 57-pounds, this e-bike is the heaviest on this list.
What to look out for in the best bike for 300-lb man
Whether you want a bike for recreational riding, fitness, or commuting to work, you have to consider certain features. Bikes designed for heavy riders come with a lot of enhancements to safely and comfortably support their weight. Here are the main things to consider when searching for the best bike for a 300-lb man.
The Wheels
The type and size of wheels can create a big difference in the riding comfort in bikes for heavy men. Wheels made of metal instead of carbon and featuring many spokes can support a heavier person. The number of spokes on the front wheel matter less, but you should select a bike with at least 24-spokes on the rear wheel.
You should upgrade your bike's wheels if they have 16 to 18 spokes since these can only support lightweight riders. The size of the wheels also plays a big role in supporting the weight of heavy riders. Larger wheels provide more riding stability for heavy riders compared to small rimmed tires.
29-inch wheels are ideal for riding on rough terrain since they handle well against any obstacle you'll find on these roads. Any wheel above 26-inches is suitable for a 300-lb man. You can also choose to order custom made tires that come with high-quality rims and stronger spokes.
The Frame
There's a wide variety of frame types available for bikes. There is aluminum, carbon fiber, titanium, and steel frames. Each of these frames has its strengths and weaknesses. For individuals who are on a budget, aluminum frames are suitable for them, although this type of frame isn't the strongest.
Carbon fiber frames are stronger but are quite expensive. Most heavy riders prefer bikes with carbon fiber frames. Steel frames are stronger and affordable but make the bike quite heavy. Titanium is as strong as steel but not as light as an aluminum frame.
Drivetrain
The best bike for a 300-lb man should have either one or two chain-rings for improved comfort and smoother shifting. This will cost you more since your bike will have two shifters and derailleurs on either side of the handlebars. Nonetheless, bikes with a higher number of gears make cycling easier and more fun.
Suspension
The type of suspension on your bike will affect its control, traction, and overall comfort offered. Your bike will be heavier if it features a suspension fork at the front alongside a rear shock. It'll also make riding quite a task as you'll become fatigued easily when riding on hilly terrain or over long distances.
Therefore, your budget, riding terrain, and preferences will determine the type of suspension you choose for your bike. Full suspension is ideal in absorbing bumps compared to suspension forks (hardtail). The latter is, however, cheaper and provides more speed when riding.
All Components Should Fit
For improved safety, the best bike for a 300-lb man should have components designed to fit the large frame of the heavy person. The handlebars, stems, seat posts, and saddles should support the overweight person and accommodate their height among other needs. The wide handlebars in the cruiser and hybrid bikes provide are more flexible and comfortable.
The drop bars on road bikes should also be wide for the same reasons. Large and padded saddles will provide more comfort and minimize the pain on your back while riding. The bike should also have high-quality pedals that should ensure you cycle without struggling. Your bike will also need brakes that will allow you to come to a complete stop even in adverse conditions.
Verdict
The above-reviewed bikes are some of the best for 300-lb men. They come with rigid construction, strong frames and tires, reliable drivetrains, and comfortable saddles. The list covers the mountain, hybrid, road, and electric bikes. Depending on your riding style, preferences, and cycling goals you'll find the best type of bike for you on this list.