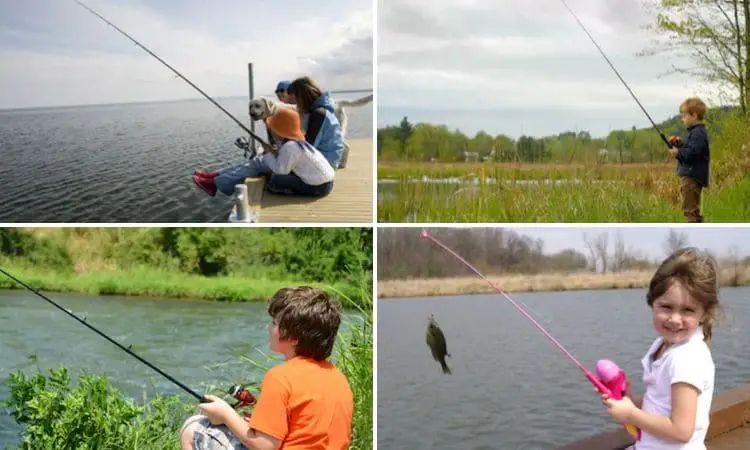 Best Youth Fishing Poles
* Products recommended in the post contain affiliate links. If you purchase something through our posts, we may receive a commission at no extra charge to you. See our full disclosures here.
One of the most rewarding experiences that a parent can have is teaching their young one to fish. Most parents take the fun and excitement of fishing with their kids as a time to bond with them. There'll be no greater pleasure for a parent than passing down to the next generation their passion for fishing.
Choosing the right fishing pole for your child will highly influence how successful the fishing expedition will be. Adult fishing poles can be too heavy and difficult for kids to hold with their tiny hands. They're also more complex and can cause more frustration than fun.
Getting your little one a fishing pole that suits them best is one way of getting them interested in fishing. The right pole will ensure they can produce more catches and have fun fishing. Using the wrong fishing pole can make the outing boring and dissatisfactory.
This review will look at what to look for in the best youth fishing poles.
What you need to know about the best youth fishing poles
Using the wrong fishing gear can frustrate you while you fish. This can add to the stress of spending hours without catching a fish. The best youth fishing poles are usually light, short, simply designed, and inexpensive. Getting your child one of these will ensure that their fishing experience is more memorable and fun than frustrating.
You should lookout for the following features when choosing the best fishing pole for your child.
Length
When choosing a new fishing pole, you should identify its length first. The length is key in determining the direction your child's fishing experience will take. Fishing poles will measure from 4-feet to 14-feet in length. When selecting the pole length, the general rule is that shorter poles cast shorter distances, and longer rods cast longer distances.
Therefore, the fishing pole should be made to specifically fit your kid's needs. A shorter pole will make fishing easier for them but they won't learn much. A longer pole might be difficult for them to handle and can frustrate them and crush their confidence. You can start with a 4-feet pole and increase its length as your child becomes more experienced.
Material
Most fishing poles are made from fiberglass, graphite, or a combination of both. Graphite poles are lighter and stiffer but not as strong as those made from fiberglass. They tend to break easily but their lightweight and brittle feel make them more sensitive. You can detect light bites with a graphite pole.
Poles made from fiberglass are best for beginners since they don't need any maintenance. They're also strong and average in weight. You can also use them to catch heavy and large fish. If you're looking to fish in different locations, the ideal fishing pole is one made from a combination of both materials.
Weight
Depending on your fishing requirements, you should have some idea of the weight of the pole you're looking for. The weight of the fishing pole can have a big impact on your child's fishing experience.
Your child should be able to comfortably hold, cast, and control the ideal fishing pole using one hand. Therefore, it's best to choose a pole that's light enough for any child since it can be rather difficult to assess how much weight your kid can comfortably lift.
Durability
Since kids can be quite rough with their equipment, you should get one that's made with strong but lightweight materials to withstand the mishandling. This will save you the pain of having to buy a new pole after every fishing trip.
Handle
The fishing pole's handle should be small enough to fit in your child's hands. It should also be comfortable and easy to use. Some of the best fishing pole handles are made from rubber, EVA foam, or cork. These materials are soft and won't cause any injuries to your kid's hands.
Portability
The best fishing pole should be light enough for your little one to carry when going fishing. You should look for a pole that can fold down to a small size. One that comes with a carrying case can make it easier for your child to take their fishing pole anywhere at any time.
Ease of use
There are fishing poles that come with additional accessories and features that make it possible for anglers to fish even in deep waters. Children don't need advanced features that may make fishing too complicated for them.
A fishing pole with simple design should be ideal for your child. The fishing pole should also have a tangle-free casting mechanism and a collapsible shaft to ensure your child isn't frustrated when fishing.
Power
This is the amount of force that your child will use to bend the fishing pole. It's recommended that you get your child a fishing pole that has more power. Poles with more power can bend easily. You can also detect a bite more easily with a rod that's been designed to be ultralight. Your little one can easily catch fish like trout and panfish with a pole that has more power.
Action
This is the point on the fishing pole where it bends. Fast action poles can bend closer to the tip whereas slow action poles bend closer to the end. You can give your little one more angling thrill with a lighter action pole that'll allow them to feel more in the fight.
Faster action poles can be used for single hook baits requiring stronger, harder hook sets. Slower action poles can be used for moving baits with treble hooks.
Top 5 Best Youth Fishing Poles
#1. Shakespeare Youth Ugly Stik GX2 Fishing Rod and Spinning Reel Combo
This is a 5-foot, 6-inch medium-action spinning rod ideally sized for older kids. With all its integrated features, your little one will be mastering the art of fishing in no-time. The GX2 combines exceptional strength and durability using an easy-to-use layout that makes fishing easy and fun for the entire family.
The graphite and fiberglass construction make it both durable and lightweight whereas the Shakespeare Clear Tip design allows for added responsiveness to the lightest nibbles and strikes. This design will ensure that your kid becomes more confident with their fishing.
The EVA foam grip is comfortable and lightweight and is specially designed for smaller hands. The two-piece design of the GX2 makes it easy to transport and store this fishing pole. It also includes a machined anodized aluminum spool with a single ball bearing that delivers smooth performance and retrievals. The handle can be adjusted to fit right or left-handed users.
Despite the Shakespeare Ugly Stik GX2 combining a durable rod with a dependable fishing reel, it doesn't come with a fishing line. You'll have to get one for yourself before you take your child out fishing. With a six-pound line, the reel has a maximum capacity of 145-yards which increases to 255-yards if you use a lighter found-pound line.
Pros
It's been designed with a machined aluminum spool.
It features a one-piece stainless steel guide.
The length of the rod makes it useful for any trip.
It's very user-friendly and hard to break.
The combo includes a reel that makes it easy for beginners to use.
Cons
It doesn't come equipped with a fishing line.
#2. PLUSSINO Kids Fishing Pole Combo for Youth Fishing
The PLUSSINO Kids Fishing Pole Combo comes with everything your young fisherman will need. The striking feature of this fishing pole is the telescopic rod that's 3.94-feet long and weighs just 2.2oz. The telescopic design makes this pole easy to transport and store. It can fold down into a compact 14.5-inch package that's perfect for storing in the toy cupboard back home.
Introduce your child to the world of angling with children fishing kit like the PLUSSINO. This fishing pole features a non-slip EVA foam handle that fits comfortably in children's small fingers. It's also made with a right/left interchangeable handle that can be used by both right and left-handed kids.
The combo comes as a complete set with a telescopic rod, spincast reel, line, and tackle. The simple design of the reel makes it easy to teach kids how to cast. Compared to a baitcaster, this reel is less complex. It's also less prone to line twists and tangles as is the case with traditional open-faced spinning reels.
Upcoming anglers can enjoy the right blend of power and speed with the 5:2:1 gear ratio of this fishing pole. This combo also comes with a fishing line and tackle, a selection of float bobbers, crankbaits, jig heads, soft lures, swivels and sinkers suited to a range of different fishing conditions.
Pros
It's simple to set up and put away.
This fishing pole is lightweight and compact.
It features a telescopic design for easy transport.
It's designed with a comfortable handle.
It's two sizes make it ideal for both toddlers and older kids.
Cons
The fishing line tangles easily.
It can be difficult to cast.
#3. Shakespeare Youth Fishing Kits
The Shakespeare Youth Fishing Kits is ideal for a person who's looking for an affordable pole to teach their kids fishing and casting before heading out to the lake. The pole functions well and is a great starter pole for kids. It's easy to use and can be used by kids as young as three-years-old.
The rod measures 2.5-feet long making it ideal for some of the smallest anglers. It also comes with kid-friendly design options that include motifs from Cars, Toy Story, Disney Mickey Mouse, Frozen, and Spiderman among others.
For added comfort, this youth fishing kit features an EVA foam handle, a round knob that's easy to grab and a finger guard to encourage proper hand placement. There's a thumb button extension on the reel to help make casting easier.
The machined ported and double anodized aluminum spool ensures that the rod is durable and is also compatible with braid or nylon. It also features an anti-reverse bearing that prevents fish from escaping if your little one forgets to sink the hook immediately.
This fishing pole from Shakespeare doesn't include any extra fishing accessories but it comes with a fishing reel and fishing line. Also included is a fish-shaped practice plug that you can use to practice fishing with before heading out to the nearest lake.
Pros
It comes in multiple different kid's franchises.
It's an all-in-one fishing rod.
Its size is perfect for small kids.
It comes with a rubber fish for practicing.
The thumb button extension makes casting easy.
Cons
The pole doesn't float.
There are no hooks included.
#4. Zebco Dock Demon Spinning Reel and Fishing Rod Combo
The Zebco Dock Demon is the perfect choice if you're looking for a beginner fishing rod that both kids and adults can use. This fishing pole is light and compact, yet very durable. You can even use it to catch the big and heavy fish. For a rod that's quite affordable, its performance is impressive.
You can get this fishing pole for a kid who has outgrown toddler fishing poles but still too small to start using the standard adult rods. The Zebco Dock has been designed for vertical fishing in tight spaces which gives kids a taste of using a grown-up set-up to fish. The 30-inch rod is made of solid Z glass that ensures it won't break easily. This material also makes it lightweight and durable.
The EVA foam handle is comfortable and ideal for kids' small hands. Kids as young as two-years-old can handle this fishing pole without any adult assistance. Included in the fishing rod combo is a removable spinning reel, pre-loaded with a 6-pound line. For better accuracy and distance, the Zebco Dock Demon has an open-faced design that makes it ideal for teaching your little fisherman sophisticated casting techniques.
The reel has a maximum capacity of 135-yards with the included 6-pound line. Your budding fisherman can easily catch larger species of fish that one would target using youth fishing poles with the Zebco Dock Demon.
Pros
The EVA foam handle is strong, comfortable and durable.
The spinner reel is more efficient than a push-button reel.
It features a virtually unbreakable glass rod.
The combo is easy enough for kids to use.
It's strong enough to be used by adults to catch big fish.
It comes with a pre-spooled line that makes it dummy-proof.
Cons
Some users claim that it's too small and gets tangled too often.
The rod is too flexible, particularly for first-time users.
#5. IEBIYO Fishing Pole and Reel Combos for Kids
The IEBEYO Fishing Pole for kids is the ideal pole to take with you on long-distance trips. Included with your purchase is a waterproof fishing bag that's comprised of 600D oxford fabric. This bag has convenient handles for carrying and a side pocket that's perfect for storing tackle, line, and other fishing accessories.
The collapsible fishing rod will fit inside this bag. This makes the IEBIYO compact enough to keep in the car allowing your child to cast a line whenever an opportunity arises.
The rod measures 4.5-feet long and feature six adjustable sections that collapse to just 13.7-inches. The rod is made of fiberglass, and the ABS and silicone construction makes it lightweight. The fishing pole measures 4.7oz. only. This makes it easier for younger and older kids to handle without any adult assistance.
Also included in the package is an easy-to-use spincast reel, fishing line and a plastic cap that can fit over the rod to protect the guide rings in transit. Besides the lures and hooks, everything you need to start fishing right away is included.
The IEBIYO features an ergonomic handle that's engineered to reduce stress so there'll be no complaints of fatigue from your kids. While most users aren't quite impressed with this fishing pole's durability, it's overall portability makes it stand out.
Pros
The ergonomic handle reduces stress on the hands.
It comes with a waterproof fishing bag for portability.
It's red and black design is very appealing.
It comes with a waterproof fishing bag.
Cons
Most users aren't impressed with the fishing pole's durability.
Conclusion
Fishing is one of the most popular hobbies in the world. The thrill of catching fish of different sizes and enjoying the outdoors makes it even more interesting. Taking your little one outside into the water and engaging them in the fishing experience could help you bond and create great memories together. Getting the right fishing pole for your child will ensure that they get the full fishing experience by getting a catch of themselves.
Having a basic understanding of the fishing poles will help you select the best youth fishing pole that'll help your kids work on their fishing skills. You need to consider the length and weight of the poles based on your fishing activities. You can then look for other attractive features that will help fulfill your secondary requirements. The best youth fishing poles are short, have a simple design, and are comfortable for kids to handle.
Summary
Reviewer
Review Date
Reviewed Item
Author Rating





Product Name
Price
Product Availability