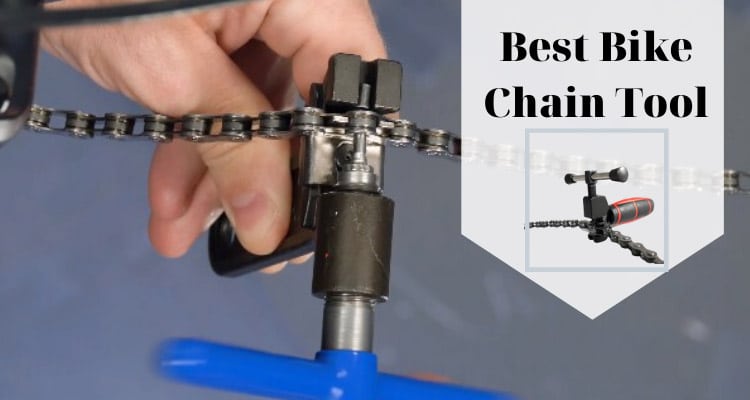 Best Bike Chain Tool
* Products recommended in the post contain affiliate links. If you purchase something through our posts, we may receive a commission at no extra charge to you. See our full disclosures here.
Having a set of tools is very important if you own a bike. You can never know when you'll get a flat tire or need to change a broken or old chain. Therefore, your tool kit should include a bike chain tool to help you in maintaining your chain. The chain is part of the bike components that keep on moving and thus subject to wear and tear. 
To get the most out of it, you'll need to lubricate it regularly and replace it periodically. While some bikes come with quick-release chains that don't require any tools, others will require that you have the right tools to fix them on your bike. 
This review provides a guide to helping you select the best bike chain that you can use to break the chain and put it back together.
Why is a Bike Chain Tool Important?
Bike chain tools are quite easy to operate. They feature a punch that one has to advance to reach the pin that holds two links of the chain together. To break the chain links, one has to push the punch out. Although you can also use the same tool to connect broken chain links, the process is quite complicated.
Many new users consider bike chains only useful when replacing worn-out chains, but there are many instances that one can use this tool. You can use the tool to shorten a very long chain or use it to lengthen a shorter chain by joining two links together.
While other tools such as Allen keys and screwdrivers can come in handy when replacing chains, it's advisable to use the right tool for the job. Chains are delicate and are easily damaged if one uses the wrong tool. Besides, bike chain tools are quite easy to use.
What to Look Out for When Getting the Best Bike Chain Tool
Bike chain tools are an essential part of your tool kit. However, there are many tools available on the market that can lead to confusion. Considering the following factors will help you in selecting the best bike chain tool that meets your needs.
Ease of Use
The design of tools ensures that work is easier and bike chain tools are no exception to this rule. It'll be less frustrating to use a bike chain tool that's easy to use, particularly if you're a novice. Conversely, tools that aren't easy to use can cause injuries when fixing or building your bike.
Type of Bike Chain Tool
Bike chain tools come in different designs that allow the user to easily break or fix a chain. The most common style featuring on many bike chain tools is the twist and screw style. However, some tools resemble pliers while others come as part of a set of tools. Choosing the right type of bike chain tool that meets your needs is vital.
Bike Chain Size
Select a bike chain tool that's compatible with the drive train and chain. Most chains measure 3/32-inches while others are thicker at 1/8-inches. Ensuring that the bike tool fits the chain is an essential part of the selection process.
Bike Chain Speed 
Bike chain tools also come with specifications designed to match the chain speed. Many bikes today have chains with speeds ranging from 5 to 10. For maximum performance, the chain speed should match the bike chain tool.
The functionality of the Bike Chain Tool
The two main functions of these tools are to break chains and connect broken links. Many of the tools break chains hence known as bike chain breakers and bike chain splitters. You should match the functionality of the bike chain tool with your intended use.
Top 5 Best Bike Chain Tools
#1. Park Tool CT-3.2 Chain Tool
The Park Tool CT-3.2 Chain Tool is compatible with different types of bike chains. It's a heavy-duty tool that features a design intended for everyday use. The bike chain tool is suitable for different chain sizes such as 3/16" and 1/8". It's also compatible with single-speed and derailleur type chains with chain speeds ranging between 5 to 12. This makes it quite a handy tool for both experienced and novice users. 
It features a heavy-duty construction of cast steel that ensures its longevity. The Park CT-3.2 also has an ergonomic handle with steel construction. One feature that makes this chain tool stand out is the sliding shelf that can accommodate both thick and thin chains. The attention to detail put in the design of this chain tool gives it an even more professional look.
#2. Oumers Universal Bike Chain Tool with Chain Hook
The Oumers Universal is an affordable, durable, and high-quality bike chain tool. It features a unique chain hook that makes it easy to use. This feature, integrated into the chain tool's design allows the user to hold the links together while assembling them. The chain pin breaker also included in its design makes it easy to replace the chain.
When it comes to functionality, the Oumers is ideal for both breaking and connecting chains together. This makes it very suitable for use in most bikes and different types of chains. Besides, it doesn't take a lot of space, which means you can carry it with you wherever you go.
#3. Pro Bike Universal Chain Tool
Many cyclists looking to fix their bike chains will find comfort in the Pro Bike Universal Chain Tool. Like the Oumers, this tool is compatible with different types of bikes and chains and will deliver the ultimate performance whether you're cycling professionally or commuting to work. Made of high-grade cast steel and featuring a CNC-machined aluminum handle, the Pro Bike will stay with you for many years to come.
It also features a Cr-Mo blended pin designed to deliver unmatched performance. It's suitable for both single-speed and derailleur chains with speeds ranging between 8-11. The ergonomic handle of this tool makes it quite comfortable to use, while its dimensions ensure that it's easy to fit in any tool kit.
#4. Park Tool CT-5 Mini Chain Brute Chain Tool
The Park Tool CT-5 Mini Chain Brute is a compact bike chain tool with minimized dimensions and improved levels of performance. Its durability comes from the high-grade cast steel used to manufacture it. The fact that it's a tool manufactured in the USA adds to its credibility. You can use the tool to loosen very tight chain links.
The CT-5 is compatible with derailleur chains with speeds ranging between 5 to 11. The reduced dimensions make it portable enough to carry in any bike tool kit. For improved grip, the tool features a V-shaped handle that makes it easy to replace chains.
#5. Topeak Universal Chain Tool
As the name suggests, the Topeak Universal Chain Tool is compatible with a wide variety of chains and bikes. It offers an affordable but high-quality repair solution. It features a removable handle that allows the user to customize their bike's chain. You can use it to break single speed and multi-speed chains.
It has a Cr-Mo head that provides sufficient grip when handling very hard links. Besides, you can use it with an Allen wrench to line up the pin. The Topeak chain tool is also portable, so you can carry it with you if you're going on a long journey.
Verdict
The brand, compatibility, shape, and functionality of the chain tool are vital when it comes to choosing the best one. The above-reviewed tools come with specific features that make them unique to different user needs. These tools are durable, feature ergonomic handles, and are easy to use.
Summary
Reviewer
Review Date
Reviewed Item
Author Rating





Product Name
Price
Product Availability