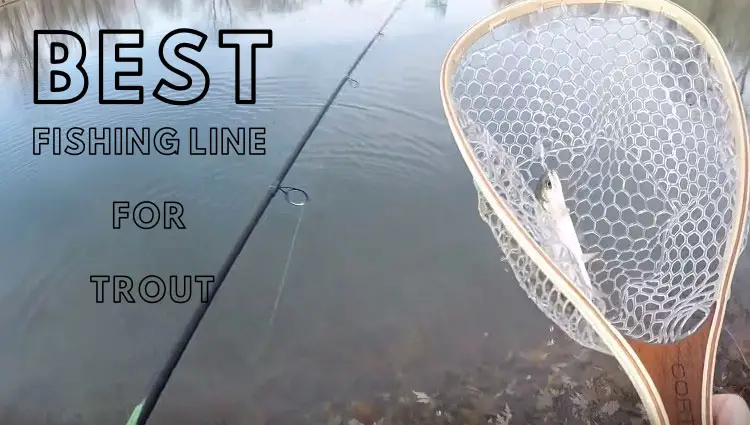 Best Fishing Line for Trout
* Products recommended in the post contain affiliate links. If you purchase something through our posts, we may receive a commission at no extra charge to you. See our full disclosures here.
Catching trout is a difficult task since this type of fish is fast and one can spook them easily. It's a great relief for a fisherman when they manage to hook trout. You can find this freshwater fish in rivers, ponds, lakes, and streams. The Rainbow, Brown, and Brook are the most common types of trout caught by fishing enthusiasts.
Therefore, you must equip yourself with the right gear before going out to fish for trout. Among the equipment you need are a good reel, rod, and line. While there is a wide variety of fishing lines available on the market, not all are ideal for catching trout. This guide and review will help you select the best fishing line for trout.
What to Look Out for When Getting the Best Fishing Line for Trout
When looking for the best fishing line for trout, you need to take into consideration several important factors. The critical factors include weight, size, material, durability, memory, and color.
Material Used
The different types of materials used to make fishing lines deliver different performance and capabilities. Some of the commonly used fishing line materials include monofilament, fluorocarbon, braided, and lead core. Monofilament fishing lines are versatile and less costly. They also come in a variety of colors but have a high memory, meaning they can bend easily.
Fluorocarbon fishing lines are smooth and durable. The fact that they can resist abrasion means they can sustain any damages that come from scraping the seafloor.
The strongest material ideal for spinning reels is the braided fishing line. Due to its low memory, this type of fishing line doesn't kink or curl up. However, it will cost you more to acquire the braided fishing line.
The lead core fishing line is suitable for deep-sea or lake fishing but not ideal for angling in streams and rivers. This material features a lead core at its center making it heavy and very sturdy.
Weight and Size
There are different thicknesses available for fishing lines so that they can handle a wide range of weight when trout angling. The fishing line's size refers to its diameter and this measurement often comes in millimeters.
The diameter of the fishing line will affect its visibility, casting ability, and depth. Thinner lines are ideal since they have reduced visibility to fish, giving the bait a more realistic look.
To improve the durability of your fishing line, it's vital to select a heavy one. A heavy line should come with heavier bait. A lighter line will be more suitable if durability isn't something you're worried about.
Color
The fishing line color will influence its visibility to the fish once you cast it. You should be able to see the fishing line move when you successfully hook trout. Nonetheless, the fishing line mustn't be visible to the fish as it may spook them.
The location and time of fishing are key to choosing the type of fishing line color you select. When fishing in clear water, a low visibility color will be the best option. Alternatively, brightly colored fishing lines are suitable when fishing at night or in low light conditions.
Fishing Line Memory
The memory of a fishing line refers to its ability to retain its shape when wound in the reel. With lines having several kinks and curls, there's a significant effect on the overall length. Selecting a low memory fishing line will depend on the location of fishing.
A low memory fishing line will provide the longest line possible. This means that a low memory fishing line won't be ideal for trout angling in rivers and streams. However, in a lake or sea, low memory fishing lines will be very important if you want to catch trout.
Durability and Sensitivity of the Fishing Line
These two features are different but vital in determining the quality of the fishing line. A great indicator of the durability of your fishing line is in its strength. A very strong fishing line won't snap under pressure. Thick lines won't succumb to the strains of angling heavy trout from the water.
How much you feel the line when fishing will determine its sensitivity. A very sensitive line will allow you to feel even the slightest pull, improving your fishing experience. Such lines will help you to increase the ratio of catching fish. Conversely, lines that aren't very sensitive will reduce the chance of getting some catch.
Top 5 Fishing Lines for Trout
1. Seaguar Blue Label 25-Yards Fluorocarbon Leader
The Seaguar Blue Label is one of the most popular trout fishing lines available on the market. Made of 100% fluorocarbon leader material and featuring a small diameter makes it a favorite of many experienced anglers. The material used makes it virtually invisible underwater meaning trout can't see it. The line isn't reflective as well.
The line also has incredible tensile and knot strength and is resistant to abrasion. The sturdy line means that it can withstand the tough resistance of trout. Nonetheless, the Seaguar may break occasionally. The 25-yard fishing line is available in a variety of sizes ranging between 15- to 80-pounds.
Pros:
The fluorocarbon leader material makes it strong.
It has incredible tensile strength.
The Double Structure Fluorocarbon (DSF) makes it very reliable.
It comes in a wide range of sizes.
The line may break sometimes.
2. KastKing FluoroKote Fishing Line
Made of the copolymer and pure fluorocarbon, the KastKing FluoroKote fishing line is transparent in water. The reduced visibility makes it ideal for angling trout. The fishing line also has a low memory that makes it very unique.
It produces strong knots for its small diameter. The strength and density of the knot are due to the combination of the two materials used to make the fishing line.
This fishing line sinks faster than a similar fishing line, is sturdy and very flexible when it comes to the range and tensile strength. It's also resistant to abrasion meaning that it isn't easily damaged when it collides with hard objects in the water.
However, since it sinks faster, the KastKing FluoroKote isn't ideal for topwater baits. Despite this, it's still a great option for anyone looking for a budget-friendly fishing line for trout.
Pros:
The low memory makes it ideal for lake fishing.
It's sturdy and highly dense.
It has a small lined diameter.
It features a 100% fluorocarbon coating.
It may be difficult to fit some types of mountain bike tires.
3. P-Line Floroclear Clear Fishing Line
The P-Line Floroclear Clear is a 100-percent fluorocarbon fishing line that has a low stretch and is resistant to abrasion.
The low stretch ensures that the line won't curl as many fluorocarbon fishing lines do. The silicone treatment of the P-Line Floroclear contributes to the line's low memory and excellent casting ability.
Depending on your personal preferences, you can use this line as the mainline. The small diameter of this fluorocarbon line makes it perfect for angling trout regardless of the fishing season. It's also quite affordable compared to other fluorocarbon fishing lines. Nonetheless, the silicone comes off easily as pointed out by many anglers.
Pros:
It has a long casting ability due to silicone treatment.
It has a low stretch.
The fishing line can allow you to tie strong knots.
The fluorocarbon fishing line is invisible in water.
The silicone treatment comes off the line easily.
4. Croch Weight Forward Fly-Fishing Line
The Croch Weight is an elastic and stiff fishing line that ensures any angler will have a successful trout fishing trip. The fishing line provides much-needed strength, elasticity, and stiffness due to the low-stretch braided multifilament core.
Made of Dacron, the fly-fishing line is strong and features a low-stretch ratio. The stiffness provides all the flexibility you need when angling trout. The moss green color of this line makes it difficult for trout to spot it but remains visible to the angler.
You can use this fly-fishing line to catch all the different types of trout since it delivers all the power you need for long casts. There's also a one-year warranty included in this package, so you can contact the manufacturer if you're having any issues with the line. However, high temperatures can affect the performance of the Croch Weight fishing line.
Pros:
It offers great strength, durability, and stiffness due to a multifilament core.
It comes with a one-year manufacturer's warranty in case of any issues.
Its versatility will meet all the needs of any angler.
It's very durable due to the Dacron material.
It doesn't work well under hot weather conditions.
5. Berkley Trilene Big Game Monofilament Custom Spool
Thanks to the incredible strength, value, and reliability, the Berkley Trilene is famous monofilament fishing line among anglers. Designed for toughness, this custom spool can withstand the rough resistance of large fish.
It's also resistant to abrasion and shock. The excellent stretch design improves the holding power of this fishing line, allowing you to handle any type of fish.
It has remarkable knot strength that ensures any trout caught remains attached. For anyone looking for more strength and fighting power in a fishing line, then the Berkley Trilene is the ideal fishing line for them.
The line is super tough, highly reliable, and versatile. You can handle the toughest catch with this monofilament custom spool. However, the memory coils negatively affect the fishing line.
Pros:
It's remarkably long and smooth.
The materials used make it highly durable.
The line is very reliable under harsh conditions.
The line provides enough control and confidence when trout fishing.
The fishing line has severe memory coil that negatively affects its performance.
Choosing the Best Fishing Line for Trout
As mentioned above, there are different types of materials used to make fishing lines. These include monofilament, fluorocarbon, lead core, and braided fishing lines. These materials differ in terms of strength, memory, and durability. The fluorocarbon fishing line is the most popular fishing line for trout for several reasons.
Since trout are very shy fish and highly visible fishing lines will spook them easily. These fish also have better eyesight than any other fish and can see ultraviolet frequencies. Fluorocarbon fishing lines are ideal since they're hard to see when underwater making it hard for trout to see.
Due to their amazing sight, trout can spot fishing lines easily. Monofilament fishing lines won't be suitable for angling trout for this reason. Trout can view different directions at the same time making it difficult to use highly visible fishing lines.
Why Fluorocarbon Fishing Line is Better for Trout Fishing
Most experienced anglers recommend fluorocarbon fishing lines since they work better than the other types of fishing lines. As aforementioned, trout are very shy fish and will take flight as soon as they see the fishing line. The fluorocarbon is transparent and will increase your odds of catching more trout.
Can Trout Spot Fishing Line?
Trout have monocular and binocular vision meaning their eyes work independently. They can view the opposite direction while swimming. Their advanced vision makes it easier for them to spot a fishing line, regardless of the type of bait you've placed.
Select a transparent line to ensure that you won't spook the trout easily. Most fishing lines made for freshwater angling are transparent. Along with the appropriate bait, you can catch as many trout as you want.
Verdict
It shouldn't be an uphill task for one to choose the best fishing line for trout. Each fishing line has specific features that make it stand out from the rest. The fishing lines have different memories, sizes, strength, material, and durability. Understanding these features will allow you to select the best fishing line for catching trout.
It's also important to understand the type of fish you intend to catch. Trout fish are shy and have amazing vision. Therefore, the fishing line you select should be virtually invisible to help improve your catch. That said, the fluorocarbon fishing line is the most suitable for catching trout.
Summary
Reviewer
Review Date
Reviewed Item
Best Fishing Line for Trout
Author Rating





Product Name
Best Fishing Line for Trout
Price
Product Availability