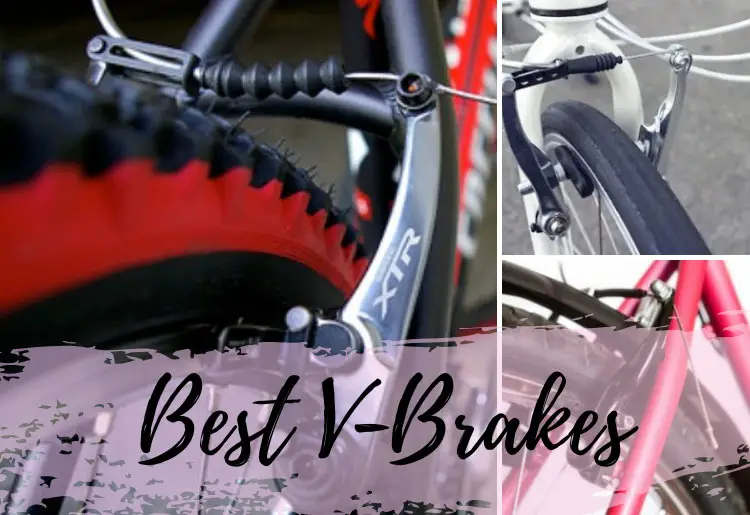 Best V-Brakes
* Products recommended in the post contain affiliate links. If you purchase something through our posts, we may receive a commission at no extra charge to you. See our full disclosures here.
The best v-brakes are vital in helping to improve the stopping power of your older mountain bike, touring bike, or commuting bike. V-brakes, also known as linear-pull brakes are great for braking in dry, wet, and muddy conditions. The longer brake arms of this brake provide more leverage to the rider, making them more powerful than most brakes.
Moreover, the best v-brakes are easy to install on your mountain or touring bike. When first introduced, v-brakes changed the performance of rim braking for off-road bikes, hybrid bikes, and touring bikes.
If you're looking for a brake to improve your performance and to give you a smooth ride, then these are the brakes for you. Take a look at the review of some of the best performing v-brakes available on the market.
What to Look Out for When Getting the Best V Brakes
The braking system is one of the most important components of a bicycle. They offer great stopping power and provide a smoother ride. The brake pads or brake shoes play a very important role in the effectiveness of your bike, especially when cycling in tricky conditions.
Brake pads undergo wear and tear over time meaning that they'll require replacement when used over a long period. It's important to be on the lookout for the wear on your brakes to ensure you remain safe while cycling. If you compromise on this, you may not only end up damaging your bike, you may also get serious injuries from a bike accident.
There are two types of brake pads available on the market. These include rim brakes and disc brakes. If you're looking to replace the braking pads on your bike, consider the kind of brakes you would like to use alongside other important factors such as riding conditions, manufacturer, and type of rim.
Disc Brake Pads
Unlike rim brake pads that use the rim as the braking surface, disc brake pads come with a round metal disc mounted on the wheel hubs. The disc rotates by a caliper that contains the brake pads. When the cyclist squeezes the brake lever, the pads presses against the rotors and the resulting friction brings the bike to a gradual stop.
Disc brakes are common on some mountain bikes and road bikes. Since the disc brake pads wear over time, they feature grooves or other indicators that show the level of wear on the braking pads.
Rim Brake Pads
As aforementioned, rim brake pads use the bike's rim as the braking surface. Once one squeezes the brake lever, the pads press against the rims creating frictions that slow the bike. You can find this brake pad added to both the pivoted cantilever arms. BMX bikes, city bikes, and road bikes commonly feature rim brake pads since they're lightweight.
The two main types of rim brake pads are cantilever and caliper brakes. If you select a rim brake pad, you'll have to inspect the bike's rim occasionally due to wear and tear from riding on different surfaces and the friction from the braking pads. Wear and tear can be very serious, even requiring you to get new wheels or rims for your bike.
Value
It's important to get functional v-brakes but ensure that you get one that's within your budget. Disc brakes often cost more than a standard set of v-brakes.
It's human nature to desire the best type of brakes but also look to save a few coins while at it. You should keep this in mind when looking for the best v-brakes. Some brands offer reasonably priced products while others will cost you more to get one.
Brand
Shimano is among the most popular brake manufacturers. Having been in existence since 1951, Shimano holds an estimated 51-percent of the world market shares when it comes to biking components. This brand produces high-quality and durable brake systems. Don't be surprised to see a bike with a Shimano component installed on them.
While Shimano may be the global bike components leader, there are other brands out there that also produce some of the best brake systems. They also offer these high-quality products at an affordable price.
If you're looking to save a few coins but get quality, then other brands will suit you. This will depend on the level of importance you place on the type of bike components manufacturer.
Top 5 V Brakes
1. Shimano Mountain Bike V-Brake BR-T4000
The Shimano BR-T4000 Mountain Bike V-Brake features an aluminum and alloy metal construction that ensures the bike remains light and stops easily. These brakes come with all the necessary tools and parts including the braking pads. This makes them quite easy to install.
While v-brakes are comparatively cheaper to disc brake systems, they still do offer similar stopping power. This is because the brake pads and calipers are of high-quality material. You can easily bring your bike to a stop using this Shimano v-brake. You can use only a finger to control this v-brake since you'll need little tension.
As is the case with many Shimano products, the BR-T4000 looks sharp on your mountain bike's handlebars. This v-brake features a matte and shiny medals finish. You can find them next to the rubber grips that make these easier to use since they don't stick out too much. The BR-T4000 is an excellent option if you're looking for an affordable alternative to disc brakes.
Pros:
They're easy to install and maintain.
They'll cost you less than disc brakes.
They offer similar stopping power to disc brakes.
You may need additional tools when adjusting the brakes.
2. CYSKY Mountain Bike V-Brake
Made of high-quality materials, one wouldn't expect the CYSKSY Mountain Bike V-brake to be very affordable. It's quite the opposite, the v-brake features aluminum allow mounting frame that makes the brakes durable and lightweight. You won't have to worry about the status of your brakes when you're involved in a minor accident.
The CYSKY V-Brake provides excellent stopping power, so you may have to consider choosing them if you're looking for an upgrade. The brakes pads provide the snuggest of fits against the wheels making them the ideal v-brake. This means that you'll need less force to create friction between the pads and the wheels.
Moreover, the CYSKY features a simple design that easily blends with your bike. This v-brake is black, comes with a mount and brake pads, and doesn't stick out too much. Like the Shimano BR-T4000, this is an excellent choice for those looking for an affordable upgrade.
Pros:
These brakes are easy to install and maintain.
They're inexpensive to those on a tight budget.
They provide excellent stopping power.
It may be difficult to fit some types of mountain bike tires.
3. Ztto Bike V-Brake
The Ztto Bike V-brake features a rigid alloy metal material that ensures the brake's durability despite the abuse it goes through. The alloy metal screws and bolts are thick adding to the Ztto's durability. Like any other set of brakes, this v-brake's design ensures that cyclists get the maximum stopping power.
The Ztto comes with units that match bot the front and rear tires. This is such a bargain considering their price. However, you won't find cables included and you'll either have to buy new ones or use the ones you already have fixed on your bike.
The braking pads come in a matte black color with silver accents, making this v-brake's design sleek and sharp. You can use them both on folding bikes and mountain bikes. This brake's affordability makes it suitable for those looking for a safe solution to enjoy off-road cycling any summer.
Pros:
They're quite affordable.
They feature a sleek and sharp design.
They're easy to install on an off-road bike.
There aren't any cables included when buying this v-brake.
4. Shimano Deore T610 V-Brake
The Shimano Deore T610 V-Brake features a brake system made of high-quality aluminum that makes your bike lighter. You can only get the T610 as either the front or rear set. This means that you'll have to make two different purchases if you're looking to acquire brakes for your rear and front wheels.
This v-brake is easy to control and performs excellently. You don't have to worry about cramped hands anymore since you can control this brake with only one finger. When properly fitted, the T610 allows you to stop within the shortest distance possible without using too much effort. You can get it in black and silver colors.
Pros:
These are very affordable brakes.
These are high-quality Shimano brakes.
It's easy to control the brake system with just a finger.
There's some level of difficulty involved when installing this set of brakes.
5. Origin8 Sport Comp V-Brake Set
The Origin8 Sport Comp V-Brake set comes with all the tools you'll need to make the best v-brake system. Included in the package are cables, levers, calipers, and housing. The v-brake features a forged alloy brake set with dual spring adjustment. You can easily and cheaply replace the clippers on the Origin8.
The woven ends of the clippers hold the ring together. Moreover, the housing comes with a lot of kinks that make it difficult to unwind. The big diameter ring of woven cables doesn't feature any kinks to ensure that you transfer all the power you need to stop your bike.
Pros:
It features a forged alloy construction.
It comes with a front dual-spring tension adjustment.
It comes with a variety of tools.
Some reviewers have questioned the quality and fit of these v-brakes.
What is V-Brake?
V-brakes or linear-pull brakes feature long braking arms placed at different angles with a lever designed to pull more cable. These features make them very powerful brake systems that any cyclist would want to equip their bikes with. The cable-actuated brakes are rather easy to adjust compared to other types of brakes like the cantilever.
Replacing the braking pads is also an easy task but you'll need to install an additional adapter to improve the functionality of v-brakes.
While newer models of touring, hybrid, and off-road bikes come with dis brakes, v-brakes still provide the best braking. The two long arms provide enough leverage for the v-brakes to perform even in the trickier riding conditions.
Setting Up V-Brakes for Your Bike
Setting up this type of brakes for your bike is rather easy. You first need to ensure that you have compatible brake levers. It's common for road levers and longer cantilever brake levers to perform poorly.
However, v-brakes feature cartridge style brake pads that make replacing a very easy task. With a little retaining pin or bolt, you can slide the old pad out, then fit a new one.
Buying the Best V-Brakes
Despite there being a wide variety of v-brake models, there's little to no difference in their price. These models use the same designs and principles in making the best v-brakes. More expensive v-brakes feature a construction of a stronger material that provides the best braking power.
While all types of v-brakes come with the same advantages, disc v-brakes perform at a different level than other types of brakes. Nonetheless, rim brake pads are lighter and simpler to adjust, repair, and maintain. Cyclists with older bikes will find disc brakes suitable for their bikes since they come with the right mounts for running the disc.
Many cyclists will, however, prefer the sharp and direct feel of ordinary v-brakes. Rim brake pads aren't ideal to use since they deteriorate over time. The wear and tear negatively affect the performance of your bike when riding in wet and muddy conditions. Disc brakes work excellently under such conditions. If you enjoy riding on a dry trail, then rim brake pads will provide superior stopping power.
Verdict
When looking for the best v-brake, you have to consider its value and brand among other factors. The type of brand chosen will determine its affordability and performance. Many v-brakes share the same advantages and are vital in providing maximum stopping power to any cyclist's bicycle. This review will help you to narrow down to the v-brake of your choice.
Summary
Reviewer
Review Date
Reviewed Item
Author Rating





Product Name
Price
Product Availability