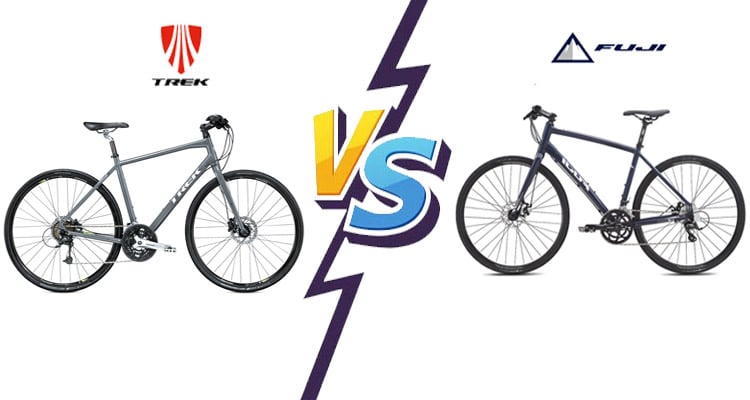 Fuji vs Trek Hybrid Bicycles
* Products recommended in the post contain affiliate links. If you purchase something through our posts, we may receive a commission at no extra charge to you. See our full disclosures here.
A bicycle should meet all your needs and serve the purpose you bought it for. There are bicycles designed for working out, commuting, adventure, and leisure among other uses. Hybrid bikes are ideal for individuals who are looking for improved comfort while riding to work on normal roads or off-trail.
If you're looking for a bicycle that you can take off-road but travel long distances with, then hybrid bikes are the right choice for you. Hybrid bikes are a cross between touring and mountain bikes. Two major producers of hybrid bicycles are Fuji and Trek. Read on to find out the main differences between these two hybrid bikes.
What is a Hybrid Bicycle?
As aforementioned, a hybrid bike is a blend of road bikes, touring, and mountain bikes. It features a frame similar to that found on road bikes.
However, hybrid bicycles have flat handlebars so the cyclist can remain in an upright position while riding. This bike also has similar shifting to the mountain bike and more ground clearance due to the higher positioned bottom bracket.
Hybrid bicycles also feature fender mounts to prevent the spraying of sand, mud, rocks, and other debris by the rotating tires. The tires are also a blend of tires found mountain and road bikes.
Hybrid bikes have narrow but knobby tires ideal for all kinds of terrain including sidewalk curbs to rough gravel terrain. These bicycles offer a fun and comfortable way to enjoy the outdoors.
Fuji Hybrid Bicycles
Fuji is one of the oldest bicycles making companies in the world. Founded in 1899 in Japan, Fuji produces hybrid bikes alongside mountain and kid's bikes. This company also manufactures track winning race bikes. Fuji hybrid bikes blend the off-road capabilities of mountain bikes with the comfort offered by road bikes.
The Crosstown is Fuji's hybrid bicycle and is available in ten different models. All models feature a front suspension which comes in handy when tackling any terrain.
The suspension gives Fuji bikes an outstanding riding quality. They also come with disc brakes that allow you to still feel comfortable even while riding at high speeds. The disc brakes offer high stopping performance.
Cyclists who are looking for a recreational bike or one to commute to work will find this bike suitable for them. Fuji provides a variety of hybrid bikes that'll fit your style and handle quite well in trails and roads alike. The Fuji Crosstown and Traverse are some of the best hybrid bicycles produced by Fuji.
1. Fuji Crosstown
This bike resembles the town bike's stylish shape. The bike features a front suspension and 700cc tires so that it can comfortably handle any off-road excursions. It comes with an SR NEX suspension fork that improves the bike's efficiency on smooth roads.
For reliable shifts and improved stopping power, the Crosstown features a 27-speed drivetrain from Shimano and a mechanical disc brake from Tektro.
2. Fuji Traverse
This hybrid bike has similar features to the cross-country racing bikes produced by Fuji. However, the geometry isn't very stiff so that you can comfortably cruise in the city streets.
It features a 30-speed drivetrain from Shimano Deore to give your very smooth but rapid shifts. Similar to the Crosstown, it also comes with an SR NEX front fork for greater performance on steep ascents.
Trek Hybrid Bicycles
Trek hybrid bikes are quite popular for their versatility since you can ride them on a wide range of surfaces. Each Trek hybrid model has unique features that either make them fast on pavements or particularly comfortable to ride on trails.
Whether you'll be cycling for fitness, fun, or commuting to work, this brand has a variety of bikes to meet the requirements of both men and women.
There's a large line of hybrid bike produced by Trek which includes the Verve series. Similar to Fuji, Trek hybrid bikes also feature Shimano drivetrains. For instance, the Verve 4 comes with Shimano EF56 9-speed shifter.
Most of the hybrid models also come with an aluminum frame. All models also come with suspension forks and tires designed to be suitable for the different terrains.
There are electric bike counterparts to some of the Trek hybrid models available. You can identify these bikes by the "+" sign designated before the model name. These electric bikes provide similar performance and comfort but with an extra performance boost by the pedal-assist system from Bosch.
Verdict
If you're looking for a comfortable recreational, fitness, or commuting bike then hybrid bikes are the right choice for you. Trek and Fuji are some of the main manufacturers of hybrid bikes in the market.
Each of the models produced by either company has unique features that make them stand out. Whether it's the different suspension, brakes, gears, and tires used, Trek and Fuji will provide you with the perfect bike to suit your needs.