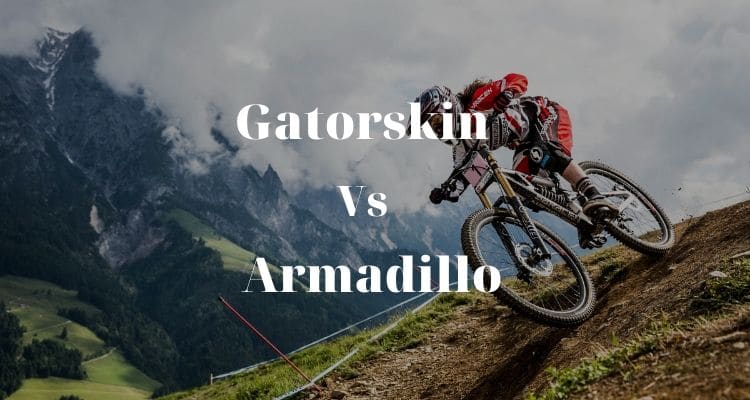 Gatorskin Tires Vs Armadillo: Which Is Better
* Products recommended in the post contain affiliate links. If you purchase something through our posts, we may receive a commission at no extra charge to you. See our full disclosures here.
In order to compare Gatorskin tires vs Armadillo, you will have to know them individually a bit more closely.
Gatorskin tires
These tires are popular among the cyclists as they can be used on various types of road conditions without damaging their banks and getting punctured.
Gatorskin tires are premium quality rod tires for all seasons. They are designed to provide you protection from punctures, matchless durability, unique pattern of tread and lifelong service. So you can use them for touring, training or commuting several miles at a stretch.
The company has made folding versions of these tires with wire bead and in various sizes like other models of this brand. Its other features include a special PolyX Breaker insert puncture protection, added protection to sidewall with DuraSkin polyamide fabric and tread made of the wear-optimized compound.
It is one of the top-ranking road tires of all kinds for cyclists due to the combination of its better cornering and low resistance while rolling, as advertised.
Pros of Gatorskin tires
Most popular as an all-season tire for cyclists
Reasonably priced as compared to other brands
Exceptional protection from puncture
Rolling resistance low
Unique reptilian' pattern on the tread
Due to DuraSkin fabric attractive coloring on the sidewall
Cons of Gatorskin tires
Puncture protection may not be suitable for all riders
Rolling resistance is more than others in some cases
Armadillo tires
The design of these all-season tires is inspired by motorcycle tires as they have tread made of a dual compound. They are claimed to be the best all-season tires as they can be used in all types of weather conditions
The weight of these folding tires is just 323 gm each. With 25.5 mm size, they are suitable for all standard rims. The combination of a tight bead and 120 TPI casing makes them a bit more rigid than others in their class. The thick compound of Gripton rubber used in these tires has enabled them to be constructed uniformly and have deeper spies but also made them a bit more inflexible. So, you must have quality levers to mount these tires on the rim.
These tires are considered the most resistant to puncture and the risk of cuts n them has been minimized by providing protection from bead to bead. Though their weight is 50% more than race tires still they are liked by every cyclist as they can use them around the year on all types of roads, hit potholes and cut through gravels confidently due to strong construction.
Pros of Armadillo tires
Exceptional protection from punctures
Can be used at lower pressure without any fear of puncture
Its punctures can be sealed easily just by using a small quantity of liquid sealant
Slightly lightweight than tires with inner tube
Less risk of bursting of the inner as air escapes from puncture very slowly.
Cons
Takes time and efforts to mount them in standard rims
More inflexible and rigid as compared to others in its class
Thus, after going through the review of both types of cycle tires you can easily compare Gatorskin Tires vs Armadillo and choose the best one for you according to your requirements.
Read more
Summary
Reviewer
Review Date
Reviewed Item
Gatorskin Tires Vs Armadillo
Author Rating





Product Name
Gatorskin Tires Vs Armadillo
Price
Product Availability