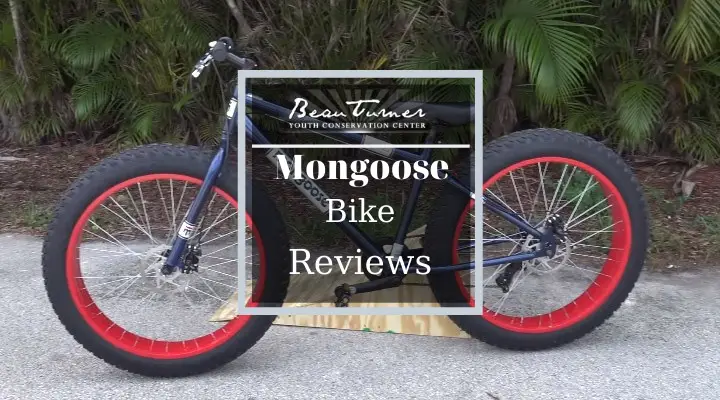 Mongoose Bike Reviews- Is Mongoose a Good Bike Brand?
* Products recommended in the post contain affiliate links. If you purchase something through our posts, we may receive a commission at no extra charge to you. See our full disclosures here.
When it comes to bikes, one of the most trusted names is Mongoose. Any cycling enthusiast would know the brand and have firm opinions about the manufacturer's history, the bikes they produce, and its spot in the hierarchy of cycling. So, if you're interested in getting a bike, knowing all about Mongoose bikes is of the essence.
Are Mongoose Bikes Good?
A professional biker knows that Mongoose bikes are very good and the brand's endorsements have made its bikes become bestsellers in stores. There's no doubt about a Mongoose bike's performance, but it's still important to learn about the various types that you can select one to suit your needs perfectly.
There have been recommendations that Mongoose bikes are the best choice for beginners. Although some of the parts of Mongoose bikes may need replacing or upgrades, people still prefer them because of their affordable price tag. 
You can purchase a standard bike at a very reasonable price with the performance still matching that of the more expensive models.
Is Mongoose a Good Bike Brand?
Most of the bicycle brands on the market provide a wide selection of products and if you intend to own a Mongoose bike, you should first know what your intentions are before purchasing. 
If you plan to use the bike within its limits and design, a Mongoose bike won't disappoint. This is why you have to know the limits of the bike you choose and your purpose for buying it, whether it's for active cycling or for simple commuting.
Mongoose Fat Tire Bikes Review
You may think that an ordinary bike functions well, but once you ride it out on surfaces covered with mud or snow, you might have a difficult time moving around. What you need is a fat tire bike that has wider and larger tires that provide superior traction. 
Fat tire bikes perform similarly to all-mountain bikes making them perfect for all terrains. Here is a review of the brand's best fat tire bikes:
The Mongoose Malus has become a bestseller because of its affordable price. This fat tire bike is one that can make you stand out while putting a smile of envy on everybody you whiz by. The 4 1/4-inch tires built on a huge beach cruiser-style frame provide the clearance you need to make the bike easy to handle on practically any type of terrain.
Furthermore, Mongoose Malus features 7-speeds, a Shimano rear derailleur, and brakes on the rear and front to maintain practicality. With fat tires being all the rage today, a Mongoose Malus can be an excellent addition to your collection providing you with the capacity to ride at any time of the year.
Pros:
4-inch tires that adds stability no matter what the terrain.

Cruiser-style frame that's both stylish and extremely durable.

Disc brakes on the front and back that make the bike exceptionally easy to handle.

It's one of the most affordable premium-quality bikes on the market.


Superior traction that allows you to ride even on wet ground.
Cons:
It's very bulky and heavy.

Engaging the brakes produces a squeaky noise.


It only has 7 gears or speeds.
Even with the availability of many models in the market, you can't go wrong with a Mongoose Dolomite as this one comes with high recommendations. You can conquer off-road trails with ease using this bike that has supersized knobby tires for all kinds of terrain.
It comes equipped with a Shimano rear derailleur and 7-speeds making hills an easier climb. The Dolomite also features twist shifters making it easier and smoother to change gears as you ride. Moreover, the bike's lightweight but strong alloy rims are considerably light adding to its speed and performance. It even has beach cruiser-style pedals giving you a comfortable ride all the time.
Pros:
Frame with a cruiser-style to improve the bike's geometry.

26-inch wheels that offer stability and comfort.

Dual-disc brake for exceptional functionality of the brakes.

7-speed Shimano Drivetrain to make shifting gears and climbing easier.


Suitable for different terrains.
Cons:
Some users claim that the bottom bracket isn't very stable.

It's quite heavy because of the size of the tires.


Some consider the brakes to be too noisy.
Mongoose Malus vs Dolomite
The Malus is the brand's newest addition to the bike family. When compared to the Dolomite, the biggest difference lies in their weight. The Dolomite utilizes some of the heaviest fat bike tires in existence while the Malus utilizes the Panaracer Fat-B tires that are a lot nimbler.
Tire weight is a critical factor in acceleration and handling. The Dolomite weighs approximately 50 pounds while the Malus only weighs 40 pounds. Although both bikes look almost identical, the Malus has better and lighter tires with a lighter, tapered fork.
The fat tire bikes of Mongoose were primarily designed for bigger and taller people. As you can expect, such people weigh heavier making them perfect riders of fat tire bikes. 
Those who aren't tall enough may encounter some issues in controlling these large bikes. Still, Mongoose bikes are the best because the company offers great customer care, support, and are very reasonably priced.
Mongoose Mountain Bike Review
Mongoose also offers a wide range of mountain bikes, from beginner bikes to those used by advanced riders. The prices on these vary although most of the beginner bikes cost no more than $300, making these a great buy if you're on a budget or you're a beginner. Here is a review of the brand's best mountain bikes:
The Mongoose Status Mountain Bike won't disappoint. It features a durable aluminum suspension frame with a strong suspension fork, and a rear shock for smoothing out humps and bumps on the road. 
With this bike, you can embark on your next adventure. The bike comes with a Shimano rear derailleur and SRAM twist shifters for swift shifting and proper gearing on rugged trails.
The bike's rims are of light but tough aluminum alloys that add durability to support the knobby, wide tires that can roll over virtually anything blocking your path. With the Status Mountain Bike, there's no holding back. This is a bike that elevates your riding experience without having to break the bank along the way.
Pros:
The sleek body of the bike is of durable, lightweight aluminum.

Suitable for men and women on different kinds of terrain.

Full-suspension mountain bike that makes it easier to ride through humps and bumps on the ground.

Comes with 21 speed levels and SRAM twist shifters.


Direct-pull brakes allowing you to stop right away even while riding at high speeds.
Cons:
The seat isn't very comfortable.

Since it weighs almost 40 lbs, it's considered quite heavy.


The assembly instructions aren't clear.
The Mongoose XR Pro 29 is a bike that can roll over all of the bumps, rocks, and roots that come your way, thus, giving you an incredible experience each time. This feat is possible with the 29-inch wheels, disc brakes on the rear, full-suspension frame, and suspension fork.
The design of the Mongoose XR Pro 29 allows it to conquer a wide range of trails and terrains while giving you the highest comfort level. Whether you ride on rocky terrains or paved surfaces, the bike will always make you feel comfortable. The bike's exceptional components - from its dual suspension to its aluminum frame - all contribute to the bike's efficiency
Pros:
Has a fork with an SR Suntour Suspension offering excellent control and a smooth ride.

Lightweight bike with a frame made of durable aluminum.

29-inch wheels with rims made of alloy that are highly durable.

Comes with 24 speeds and SRAM trigger shifters for easy and smooth shifting.


The bike offers easy engagement and minimal vibration.
Are Mongoose Mountain Bikes Good?
One thing that makes Mongoose mountain bikes stand out is their reasonable prices. If you want to purchase a mountain bike and you're on a limited budget, you can get one from Mongoose. You may find these bikes at sporting stores all over the country.
However, the cheapest models on the lower end of the price scale of Mongoose bikes might not be worth the money you spend. But if you opt for the more expensive, high-end bike models, then you won't have to feel bad about parting with your hard-earned cash. 
Poor quality models have a cartoonish version of the brand's logo while the high-quality models have a more stylish logo of Mongoose. Keep this in mind when shopping for your Mongoose mountain bike.
Mongoose vs Schwinn
The Mongoose Company became well-known as a maker of BMX bikes in California and since then, it has become one of the industry's leading brands. Recently, the company has branched out to make urban, kid's, and mountain bikes. Here are some features of Mongoose bikes compared to Schwinn bikes:
Although Mongoose bikes are price-appropriate, they always have the best parts for the price. For instance, the expensive models come equipped with hydraulic disc brakes, the mid-range priced come with mechanical disc brakes, and the low-cost ones have caliper brakes. 
Mongoose Mountain bikes are really popular for their performance. Although the company makes superb entry-level hardtails, they are also responsible for some incredible downhill beasts.
Mongoose bikes are suitable for both women and men, but they also have models designed for kids. They even produce a couple of fat-tire bike models.
---
The Schwinn Bike Company got founded in Chicago back in the year 1895 by Ignaz Schwinn. For most of the company's early years, Schwinn built city bikes, choppers, and cruisers. 
It was only in the year 1970 when the company started creating models for the relatively new market of mountain bikes. Here are some features of Schwinn bikes compared to Mongoose bikes:
Schwinn bikes fall under the lower end of the market and as such, have lower-quality components compared to Mongoose bikes. Most of Schwinn model bikes have Shimano gears, although they are more like twist grips instead of trigger shifters.
This is perhaps the greatest advantage of getting a Schwinn bike - the price. When comparing Schwinn bikes to the more developed, high-range companies like Mongoose, their prices can look a lot cheaper. Most of their bikes cost less than $500.
Schwinn also manufactures bikes for women, men, and children and their bikes even come in a range of wheel sizes, colors, and styles. 
While it is true that Schwinn produces low-end bikes, their products may be too cheap to handle serious riding. Mongoose uses bike components designed to take the abuse that any mountain throws at them. 
Schwinn bikes are good for riding around the park, but they might not last long when subjected to the challenges of mountain trails. The choice is, therefore, clear. If you plan to purchase a high-end mountain bike, Mongoose offers more options than Schwinn.
Mongoose vs Trek
Mongoose has been in the biking business since 1974 and its line of products includes comfort, BMX, hybrid, road, and mountain bikes. You can buy these bikes in mass-market stores and sporting good stores all around the country. Prices can range from $280 - $800 for the mountain bikes and up to $2,700 for the road bikes.
The Trek Bicycles Company has been around since 1976 and has its base in Wisconsin. The product line of the company includes mountain, children's, road, urban, women, and men's bikes. 
However, you can only purchase these bikes from independent dealers or specialty bike shops. Prices can range from $330 - $6,500 for the mountain bikes and from $520 - $8,250 for the road bikes.
While the Trek Bicycles Company is more famous than the Mongoose Company, you would have to pay more for one of its bikes. If you're looking for a bike that performs well but still fits into your budget, then you may opt for one of the bikes offered by Mongoose.
Verdict
If you're in the market for a bike that offers comfortable riding, consider a Mongoose. These bikes have a design to suit different riding styles and they come in various sizes. Moreover, Mongoose bikes have wider tires to enhance traction so you can ride on any surface.
Additionally, because of the Mongoose's quality braking systems on the front and rear, they're a lot safer to ride. When you go shopping for your ideal bike, it's important to get one that fits your needs. After comparing brands and models, you can find the best one to start riding.
Read more
Summary
Reviewer
Review Date
Reviewed Item
Author Rating





Product Name
Price
Product Availability