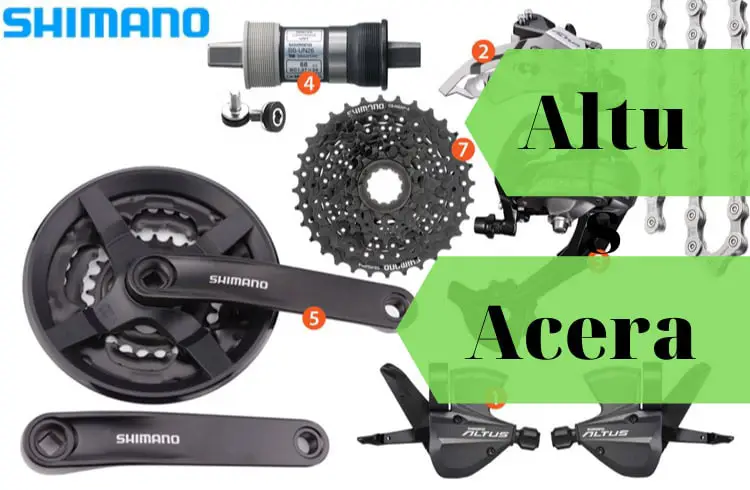 Shimano Altus Vs Acera: Which Groupset Is Better For A Mountain Bike?
* Products recommended in the post contain affiliate links. If you purchase something through our posts, we may receive a commission at no extra charge to you. See our full disclosures here.
If you are searching for the best groupset for your mountain bike or MTB then Acera groupset or Altus groupset from Shimano can be good for you. Whether you are riding on a hybrid bike or a mountain bike its operation must be smooth and comfortable. The comparison of Shimano Altus vs Acera groupset provided in this write-up can help you in choosing the most suitable one for you.
Shimano Altus Vs Acera
The quality of construction and features can be different in every groupset. Groupsets are normally designed differently specifically for different types of bikes, even if they are manufactured by the same brand. Similar is the case with Altus groupset and Acera groupset as they have been designed and manufactured by the same brand, Shimano.
Features of Shimano Altus Groupset
Shimano bikes with their respective groupset are famous among their admirers because Shimano Altus groupset can be used not only with mountain bikes but also with hybrid bikes due to its following features. It will help you in making a well-informed decision by knowing the features of Altus groupset more closely.
Shifters: The important parts of the Shimano Altus bike include shift levers and shifter. The shifter in Shimano Altus groupset includes an optical display for gear and a two-way release feature to make it compatible with the hubs Alfine S7000-8.
Brakes: When you ride a Shimano Altus bike then you will find that its brakes are more comfortable and flexible which will allow you to stop your bike instantly without any problem. The barking of the bile is made easier and more suitable by using a wire in the brakes.
Crankset: The crankset used in Shimano Altus bike are available in three differently numbered sizes.
It can be used suitably for chainrings of 2 different sizes to help in shifting speed reliably. This black colored crankset allows you to replace the chainring of your bike easily.
Rear Derailleur: Shimano Altus groupset includes a rear derailleur of good quality to make it more durable than other groupsets. For bikes with different speeds, you can easily replace their rear derailleur as it is compatible with 7-8 types of speed bikes.
Shimano Acera Groupset Details
In the Shimano MTB line of groupsets, Shimano Acera is considered as a mid-level groupset. The brakes and derailleur are very important among the different parts of Acera groupset because they are made lightweight mainly for trail riding. The performance of the Acera groupset is improving gradually as Shimano is improving it every year regularly.
Shifter: Pod design of the shifter of M360 groupset of Acera MTB is the most important part as it can allow the users to use any kind of brake level on their bike. This shifter is also popular among mountain bike riders due to its design with low friction as well as easily accessible adjustment of clamp band to set it up quickly.
Brakes: Normally for MTB Shimano Acera groupset offers a disc brake but if you want a hydraulic disc then you can also find it in Acer groupset. This solid brake is capable of stopping the power of a mountain bike of any type by providing a respectable force through its durable system.
Cranksets: The performance of the cranksets of Acera groupset has been highly upgraded to make it more durable, sturdier and lightweight. This crankset can be used with any kind of shifters and chain. In Acera M361 groupset Shimano has used three cranksets for trouble-free and quiet shifting with the help of its hyperdrive system.
Derailleurs: It is the most important part of the groupset of a bicycle. The derailleurs in Shimano Acera groupset come with three-speed combinations- 3x7, 3x8 and 3x9. The front derailleurs in Acera include the plane looking feature swing model. This part will not add any load on your bike as it is light in weight. You can tune the cable tensions comfortably by adjusting its cage.
Conclusion
Thus by comparing Shimano Altus vs Acera groupsets, you can easily buy the most suitable one for your mountain bike. The groupset you choose will help you in riding safely on your MTB as well as provide lifetime support to your bike.
Summary
Reviewer
Review Date
Reviewed Item
Author Rating





Product Name
Price
Product Availability