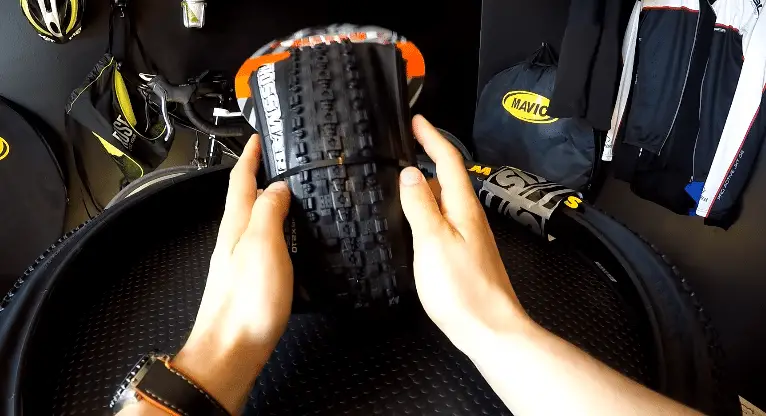 What is the difference between Folding Bead vs Wire Bead
* Products recommended in the post contain affiliate links. If you purchase something through our posts, we may receive a commission at no extra charge to you. See our full disclosures here.
The performance, comfort, and safety of your bicycle will be affected by the tires. This makes them one of the most important parts of a bicycle. Your bicycle tires should fit your bike well, be durable, and offer you an all-round performance when you hit the road.
There is a wide variety of bicycle tires available on the market. That's why cyclists have to look at the tire size, tire treads, and tube and valve sizes when selecting a bicycle tire in the different categories. Some of the different bicycle tires include clincher tires, tubeless clincher tires, and tubular tires.
Many road bikes have clincher road tires, which are characterized by a horse-shoe shaped profile. When inflated, this tire's profile "clinchers" on the rims. When the tire is inflated, the tire is held in place by the type of bead found within the tire's hooked profile.
The bead used on clincher tires can either be folding or a rigid type. Folding bead tires are made from Kevlar strands whereas rigid clincher tires are made using a wire. The latter is thus commonly referred to as a wire bead tire.
Comparison Between Folding Bead and Wire Bead Tires
Folding bead and wire bead tires differ in the following aspects:
Materials Used
As mentioned above, the main difference between folding bead tires and wire bead tires is the material used to make the beads. The bead is the part of the tire that comes into contact with the rim. It's a cord found inside the tire's circumference and holds it onto the rim when inflated.
Rigid type tires (also known as regular tires) have a bead made using steel wire. This makes them durable and very stiff. Instead of using steel wire, folding bead tires use synthetic fibers like Kevlar. Kevlar is also a durable material but more flexible. This flexibility allows the tires to be folded.
Flexibility
Folding tires get their name from the flexibility offered by the flexibility of the Kevlar material used. This feature makes it easier to fold this type of tire into a compact bundle. Due to their stiffness, wire bead tires aren't flexible enough to be folded.
The beauty of foldable tires is that they can be easily packaged. Folding bead tires were originally designed by manufacturers to suit long-distance cyclists that needed the extra tires on their journey. The ease of packaging folding tires makes them ideal for this purpose.
Weight
There's a small number of cyclists that engage in long-distance touring. Folding tires are generally lighter than wire bead tires that make them easy to travel with. Besides this, the lightweight feature of folding bead tires is the improved performance they offer cyclists.
While reducing the weight of any other bicycle component will make you go faster, tires with a lesser weight will have a greater impact on your bike's performance. This means that a cyclist will spend less energy to keep them spinning. Foldable tires reduce the weight by approximately 2-oz. for each tire but this will greatly depend on the type of model being used.
Threads per Inch (TPI) Count
Folding tires are usually marketed as premium tires by manufacturers because of the amount of weight they save. Besides, this type of tire includes Kevlar beads, which are considered premium construction on tires. Another premium feature found on foldable tires is the high thread per inch count.
The bicycle tire is made using nylon threads that are wound together tightly to make the body. The higher the density of threads, the higher the TPI count. This will give cyclists a more flexible ride than tires with a low TPI count. A tire with a TPI count of 60 or above is considered high-quality. Wire bead tires usually don't have a TPI count.
Rubber Compound
Foldable tires also feature a tread that has a softer rubber compound. Softer treads are great for bicycle tires because they offer better traction between the tire and any type of surface. This is mainly because of the increased surface area of the contact patch. However, the softer rubber makes it wear out more quickly than in regular tread tires.
Dual-compound treads are used to tackle the rapid wear of softer rubber compounds. The center of dual-compound treads is made of a regular tread compound, while the sides feature a softer compound. The latter is designed to improve the tire's traction when cornering. Wire bead tires aren't usually equipped with softer rubber.
Price
The folding variety tires are likely to cost much higher than the wire bead counterparts. This is mainly due to the premium features incorporated into the design of folding bead tires. Their reduced weight, high TPI count, and soft rubber compound make them a premium tire compared to wire bead tires.
Generally, folding bead tires are likely to cost somewhere between $6 to $30 more than wire bead tires. The cost difference is attributed to tire construction. Many cyclists will find that the premium features of folding tires are commensurate to their high cost.
Bestseller Wire Bead Tire
Verdict
Most of the above differences may point to the fact that wire bead tires are of lower quality when compared to folding bead tires. However, that's not necessarily the case. While some companies make lower-spec wire bead tires than folding bead tires, others make the same type of tire with two different beads.
Another common myth is that wire bead tires are harder to mount compared to foldable tires. Some cyclists have found that foldable tires are harder to mount. So, which tire type is best for you? This will depend on your budget and intended use.
Long-distance cyclists will prefer having foldable tires because they're lighter and can be folded. They can carry a lot of spare tires in case the ones on their bike wears out. Wire bead tires are cheaper and will be preferable if you're on a tight budget. There's no great difference when it comes to using these tire types.
Summary
Reviewer
Review Date
Reviewed Item
Folding Bead vs Wire Bead
Author Rating





Product Name
Folding Bead vs Wire Bead
Price
Product Availability