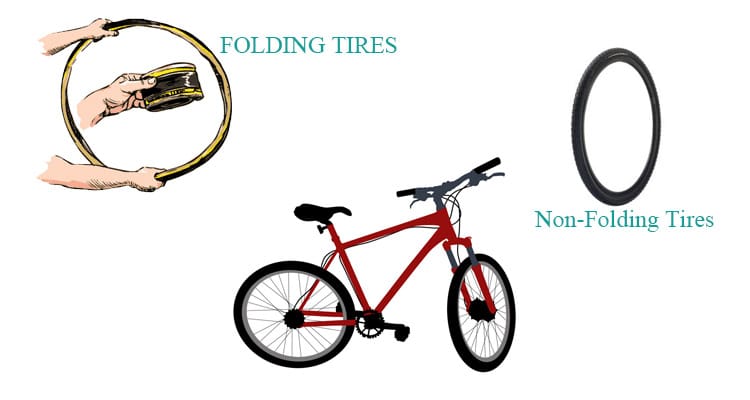 Folding VS Non-Folding Tires – And The Verdict Is
* Products recommended in the post contain affiliate links. If you purchase something through our posts, we may receive a commission at no extra charge to you. See our full disclosures here.
Are you planning to get a bike? If yes, then choosing the right tires is one of the most important things you should take care of. Some years back, only non-folding tires were available but with the advancement in time and technology, now you can choose from a variety of folding tires. However, folding tires have gained a lot of popularity all over the world.
Now the questions arise which one you should choose, folding or non-folding? So if you have the same question, stick to this article. In this article, you will get a detailed differentiation between folding vs non folding tires. So without spending a single second, let's get started.
In Terms Of Flexibility
One of the biggest differences between folding and non-folding tires is flexibility. The folding tires are more compact and portable in comparison to non folding tires. They can easily be folded into a compact bundle, which makes them very easy to carry and transport. The folding tires give an advantage while traveling to the longer destination as you can an extra one. And the best thing is that it won't burden you. In short, as compared to non folding tires, folding tires can be packed easily.
Kenda is a major tire manufacturer, read more about kenda bicycle tires reviews here
In Terms Of Rubber Compound
If you talk about the rubber compound, then folding tires come with a softer rubber compound in comparison to non folding tires. The main benefit of having a softer rubber compound is that you get better traction on most surfaces. But it will also wear out faster. On the flip side, the regular tread in the non folding tires is more durable and you can expect it to last long. Though if you want to use folding tires, then you can opt for tires that come with dual-compound tread as they are specially designed to tackle the rapid wear.
In Terms Of Bead Materials
The main difference between the folding and non folding tires is the materials that are being used to make the beads. For those who don't know what bead is, it is like a stiff cord, which is responsible for the formation of the tire's inner circumference and it also provides support to hold the tire onto the rim. The folding tires generally come with beads made of synthetic fiber whereas the non folding tires feature steel-wire construction. However, both the materials are durable but the only difference is that synthetic fiber provides better flexibility.
In Terms Of Weight
Folding tires weigh much less than the non folding tires. Though if you are a normal biker and only rides in your local area, then you won't notice the difference but it is a great advantage for pro bikers. The weight factor is an important thing because it can affect your performance. With light tires, you will have to put less energy and you will be able to ride faster. This is the main reason why people who ride longer distances prefer folding tires.
In Terms Of Threads Per Inch
If you have been using the folding tires, then you would know that folding tires are often sold as a premium product. This is because along with the being light, they also come with other premium features such as TPI or higher thread per inch. As you know that nylon thread is used to compose the tire's body and due to this, the higher the density of threads, the better the quality of the ride. Folding tires mostly come with a TPI of 60, which is much higher than the non folding tires.
Best selling Folding Tires
Best selling Non-Folding Tires
Conclusion
So these were some of the major differences between folding and non folding tires. As you can see that both tires are different in many things. The non folding tires can tackle the wear out a little better but they are heavier. Folding tires are loaded with premium features. They are constructed with lighter materials, which gives an advantage to pro bikers. Folding tires are also easy to carry and they also save your energy. On the flip side, non folding tires may be a bit heavier but they also provide good durability. Hope this article will clear some of your queries and give you some valuable information.
Summary
Reviewer
Review Date
Reviewed Item
Folding VS Non-Folding Tires
Author Rating





Product Name
Folding VS Non-Folding Tires
Price
Product Availability