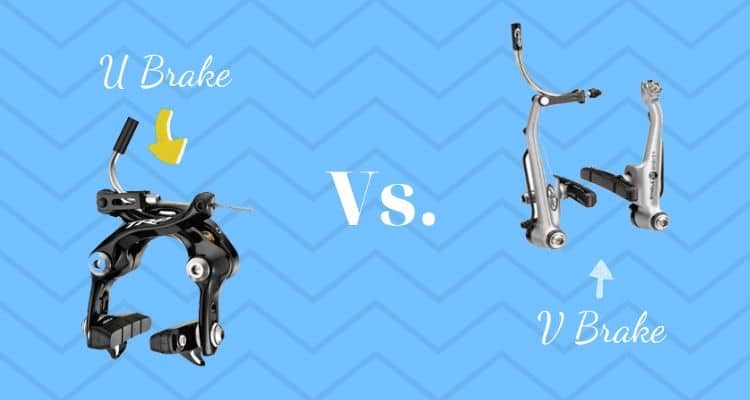 U Brake vs V Brake
* Products recommended in the post contain affiliate links. If you purchase something through our posts, we may receive a commission at no extra charge to you. See our full disclosures here.
Bicycle brakes are used to slow down or safely bring a bike to a stop. They allow the rider to bring their bike to a complete stop in a controlled manner. Brakes achieve this since they're designed to absorb energy and reduce the wheel motion by creating friction. There's a wide range of brakes available to suit your bike and riding style.
Typically, bike brakes have three main components. Brake levers are found at the handlebars. The rider presses these levers and their action is transmitted either through Bowden cables, hydraulic hoses, or rods to the main brake mechanism. The brake mechanism comes in the form of a caliper or drum that stops the bike's wheels from turning.
Types of Bike Brakes
There are three main types of bike brakes. These are rim brakes, disc brakes, and drum brakes. Rim-brakes are made of a leather, rubber, or cork pad that's used to slow down the bike's wheels. This type of brake is usually activated by levers mounted on the bike's handlebars.
The braking mechanism of disc brakes is a metal disc mounted on the bike's wheel hub. Calipers and pads attached to the bike's frame help to bring the bike to a stop. Drum brakes operate in a similar way to car brakes. The only difference is that bicycle drum brakes use a cable instead of the hydraulic actuation found in cars.
U brakes and V brakes are part of the many sub-types of rim brakes available on the market. Most riders often ask themselves which brake mechanism is better for their bike between a U brake and V brake. This guideline will help you differentiate between these two subtypes of rim brakes.
What is a U Brake?
A U brake is a type of rim brake that works similarly to the center-pull caliper brake. The only main difference is that this brake features pivots mounted on the bike's frame or fork. Center-pull caliper brakes feature pivots attached to a bridge frame that's mounted to the bike's frame or fork using one bolt. If you want to know how to center the bike brake, you can check it here.
U brakes have L-shaped arms that cross above the wheels. This means that the right pads can be controlled by the left side of the transverse cable and vice versa. Unlike conventional cantilever brakes, U brakes use studs that have been attached to the bike's frame above the rim, instead of below it. The studs used are similar to those used on roller-cam brakes.
This type of brake was commonly used on mountain bikes in the early 90s, especially under the chainstays. This fad was quite popular back then and gave bikes a clean look and made it easier to position the transverse cables. Besides, U brakes minimized the flexing of studs under loads since the chainstays were larger and more rigid.
In recent days, most freestyle BMX forks and frames feature U brakes because they offer minimal sideways protrusion by the cable and brake system. The exposed parts of the brake system are also smooth ensuring that they don't interfere when the rider's clothes or body.
Advantages of a U Brake
Some of the advantages of having U brakes on your freestyle bike include:
U brakes provide great braking power.
The best U brakes are lightweight.
The brakes help to improve the bike's overall aerodynamic performance.
The rear brake mounting gives bikes a higher frame stiffness and improves the overall braking efficiency.
Limitations of a U Brake
U brakes quickly fell out of favor on use with bikes mainly because:
They were prone to clogging with mud particularly on cross-country bikes.
They made the process of removing wheels quite complicated.
U brakes are quite difficult to adjust or service because they're inaccessible.
As rider's applied the brakes harder, the pads wore and significantly reduced the brake's mechanical advantage.
The high-mounted studs increased the chances of the brake pads hitting the bike's rims as they wore down. If not properly monitored, these rims would end up rubbing on the tire's sidewalls.
What is a V Brake?
V brakes have greatly revolutionized the performance of rim brakes for both hybrid and off-road bikes. This is a popular brake system that's often considered as the side-pull version of the cantilever brakes. V brakes are also referred to as linear-pull brakes or direct-pull brakes and are mounted on the same frame bosses as cantilever brakes.
The principle used in making cantilever brakes has been improved in V brake systems. This type of brake has longer pivot arms that create more leverage by placing the transmission cables parallel to the ground. The V brake systems work best when braking in dry conditions, but with these improvements, it still works well when braking in rainy conditions or muddy terrain.
V brakes were the initial type of brakes to be used on mountain bikes until disc brakes took over. This conventional brake mechanism is mainly preferred for use on mountain bikes because they offer smooth braking. Riders are assured of a smooth ride because V brakes offer smooth riding. However, V brakes need to be changed after a period of usage.
Advantages of a V Brake
The pads on a V brake can be easily replaced compared to U brakes.
V brakes are easy to use, maintain and replace.
It's easy to find V brake spare parts on the market.
These brakes weigh only 0.6-pounds, making them rather lightweight.
They offer fast braking in case of an emergency.
Limitations of a V Brake
They are unsuitable for braking on muddy courses.
The brakes may cause the rim to wear over time.
Road bikes will need an extra adapter installed if they're using V brakes.
Verdict
U brakes and V brakes are part of the different rim brakes used on bikes. U brakes are commonly used on freestyle bikes whereas V brakes are common on mountain bikes. Both these brake systems provide great braking power on bikes and are quite light. However, the pads found on V brakes can be easily and comfortably replaced, whereas those found on U brakes are difficult to replace due to their location.
>>> Read More Best v brakes
Summary
Reviewer
Review Date
Reviewed Item
Author Rating





Product Name
Price
Product Availability